Shopping Cart
Your Cart is Empty
There was an error with PayPal
Click here to try again
Thank you for your business!
You should be receiving an order confirmation from Paypal shortly.
Exit Shopping Cart
             Bringing shine and glitter in your drawings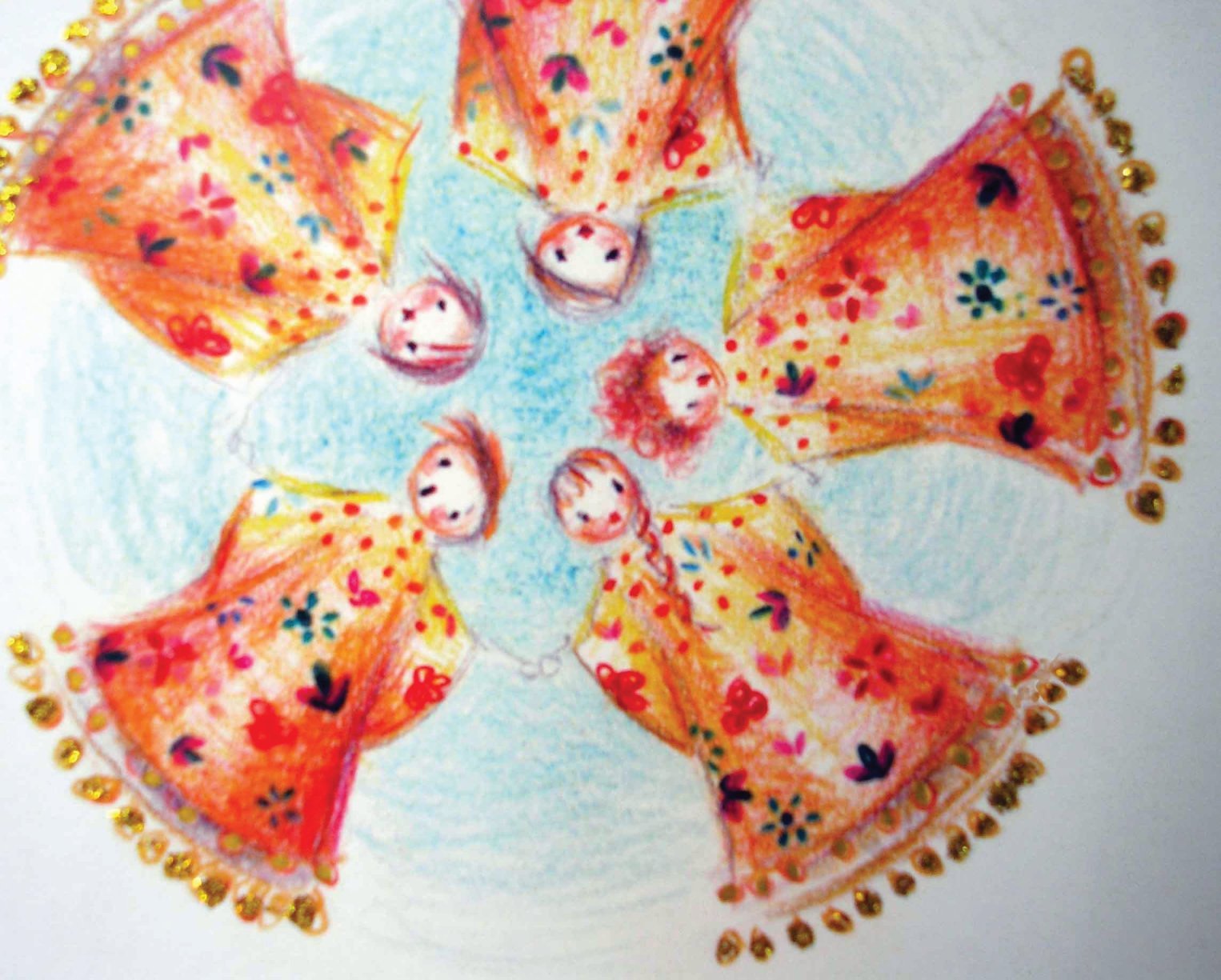 For this christmas card I filled in the top row of little dots of the dresses with a golden pen and I put a dash of golden glitterglue in each little dot of the bottom rows.
 I show you here a detail of the girls but in a photo you can not see as well  how it shines of course. Anyway, it changed a nice card into a very festive card.
Some drawings and images, like the one shown here, would look really nice too with a dash of glitter and shine.
I think of christmas- and fairy cards and anything else magical. But wherever you think a little extra highlight would look good, you can give it a try.
It is very tempting to go for it once you open the little bottles of glitter glue or start with a golden pen. I still splash with the shine and glitter too much and then, before I know it, my drawing disappears under the shine.
Better print a few copies of your drawing on heavy paper, and then try effects out on them. Remember that glue alone will leave a greasy mark, so make sure there is always glitter on the glue. And make sure you let the glue dry before you handle your drawing.
DRAWING

For most hobbies and occupations you need to invest money in a lot of things and often also space.
 For drawing you need a few things; paper and pencils. An eraser and a sharpener can come in handy too, and coloured pencils to brighten it all up.
You don´t need a fancy desk or office space. A kitchen table next to the window is a good place to draw. You can also draw in a train, a plane, outside, etc.      I can´t think of a place where you couldn´t draw, really..
Another good thing about drawing, I find, is that your hand and pencil come very close to the paper you draw on. There is less distance between you and your work as for instance when you paint. And because of that, it is easier to put things on paper the way you want it. You can work more precise as well.
The fourth very good thing about drawing is that you can use an eraser to rub lines out again.It is a bit like the undo button on your computer. Where would you be without it? Because you have an eraser at hand, you can draw with more ease. You know that you can undo any marks and make changes whenever you like.
The end result of a drawing can be just as effective as that of a painting, a sculpture,  a dress or anything else.
 Drawing is essentially used in designs, (book)illustrations,in fashion designing, in architecture, in film and in projects of all kinds, to name a few. 
/