Shopping Cart
Your Cart is Empty
There was an error with PayPal
Click here to try again
Thank you for your business!
You should be receiving an order confirmation from Paypal shortly.
Exit Shopping Cart
Op maandagmiddag, 6 maart 2017 begint in Maaskoe, een voormalig kapitein´s huis aan de Maas, een teken- en illustratie cursus.
De cursus is al gehouden in Australie en in Duitsland. Nu gaat hij van start in Rotterdam.
Je leert de technieken en vaardigheden van het tekenen én illustreren. Bij tekenen alleen denken we vooral aan het natuurgetrouw overbrengen wat je voor je ziet. Bij illustreren komt ook de bijdrage aan een verhaal in afbeeldingen er nog bij. Dat kan natuurlijk ook natuurgetrouw zijn maar hoeft niet. Illustraties hebben veel te doen met hoe je een verhaal of situatie over wil brengen en waar je nadruk op wil leggen.
Deze curcus gaat over de combinatie van tekenen en illustreren. Als je al graag tekent zul je de cursus aanvullend en verrijkend vinden en een nieuwe kijk op tekenen erbij krijgen. En heb je nog nauwelijks getekend dan zul je, op een andere manier dan de al gevorderde tekenaar, een nieuwe wereld voor je open zien gaan.
De teken- en illustratie cursus is vriendelijk in gebruik en opzet, voor materialen wordt tijdens de les gezorgd. Maar vergis je niet, het blijft een intensieve cursus waarin elk belangrijk aspect grondig wordt doorgenomen en goefend.Tijdens de les is concentratie nodig en houden we de aandacht bij het tekenen, voor en naderhand is er altijd gelegenheid voor andere gesprekjes.  Er is plaats voor maximaal 10 mensen. Voor koffie, thee en lekkers wordt tussendoor gezorgd. Mocht je graag nog meer informatie willen horen of je willen opgeven dan kan je Veronica bellen op nummer 06 434 127 44 of een emailtje sturen naar
[email protected]
of
[email protected]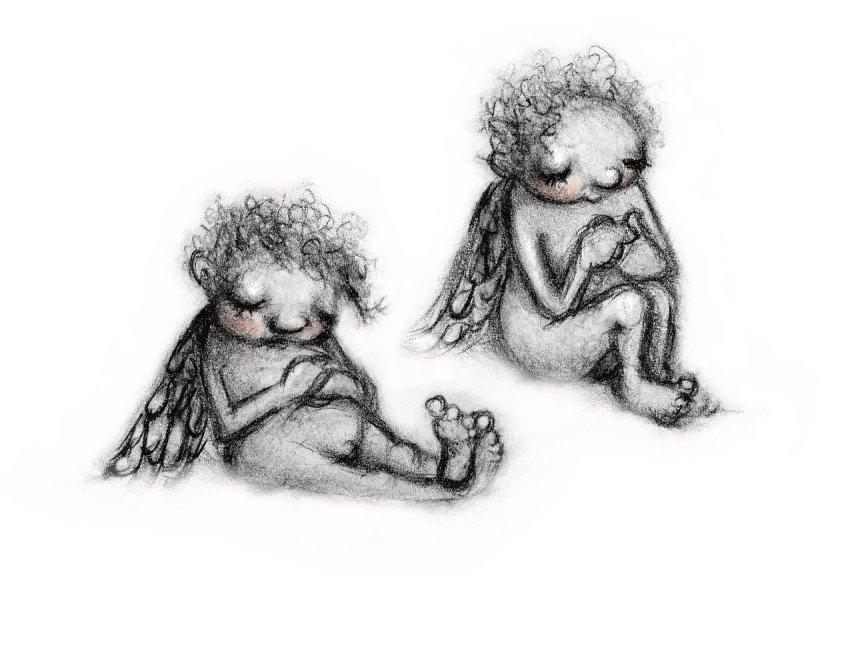 (Over concentratie gesproken..)
In about a month the schools have started again, and so will the Drawing and Illustrating Courses in Berlin. 
I offer on Mondays a course for children in the afternoon and one for adults in the evening (both in German). You can also do a course Online when that suits you better.
Online is more flexible, of course, as you are not committed to the Mondays.
And if you live in nowhere or somewhere far away from Berlin than an Online Drawing and Illustrating Course might be just the thing for you.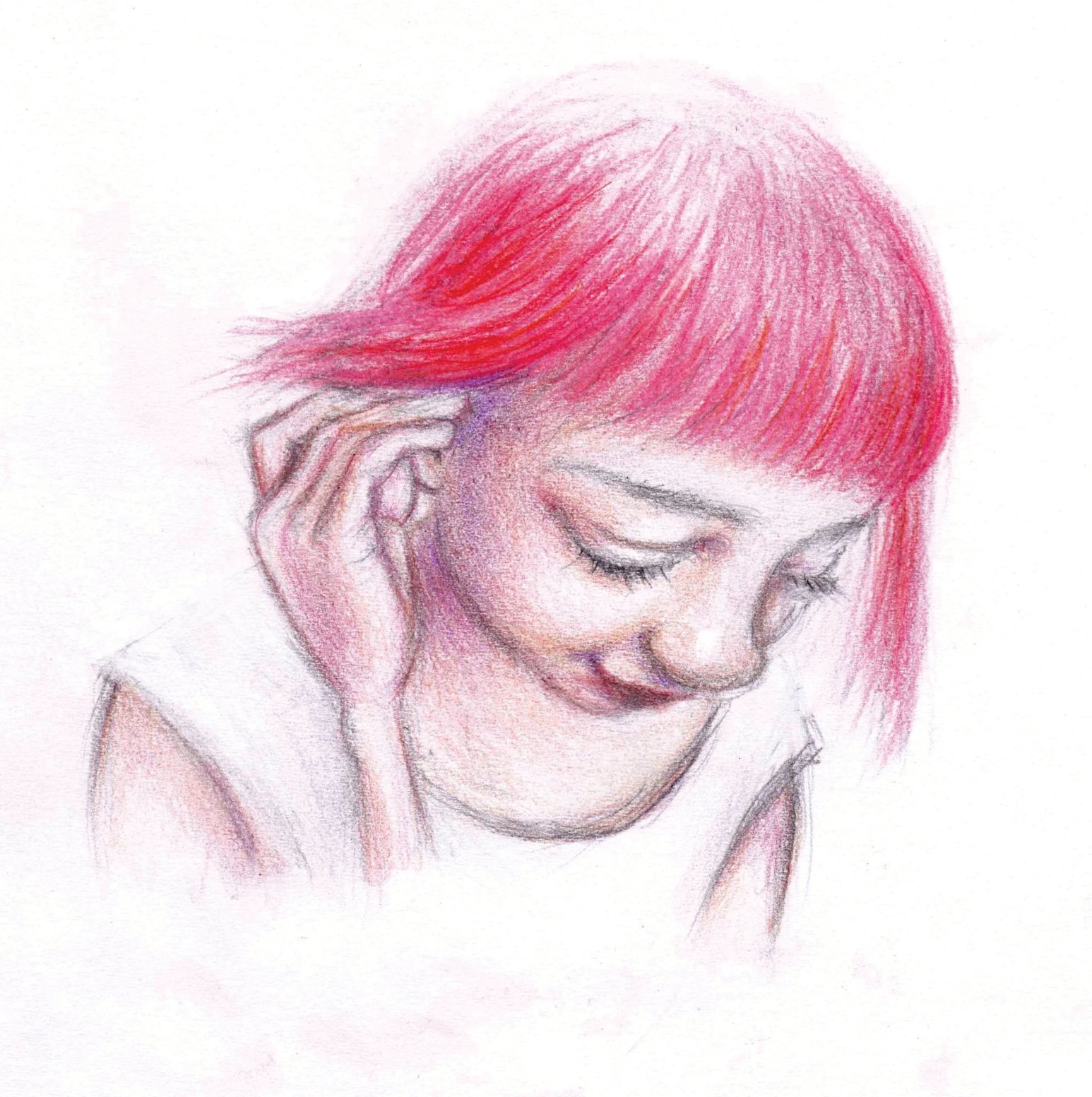 The difference between Drawing and Illustrating, in my opinion, is that Drawing is what you see with your eyes and then draw on paper.
Illustrating also has to do with creating an illusion or depicting a little story or thought. An illustration does not have to look realistic but it should come over as believable.
In this Drawing and Illustrating Course we combine the two aspects, which gives you in the end the option to go either way or stay somewhere in the middle.
The courses in Stadtteilzentrum Pankow (in Berlin) go for 12 weeks, starting on the 8. September 2014. The Online Course you can start when suits you and you can take up to 12 months to complete. 
More info you will find on my website,  hooywerk.com 
If you have questions, please contact me under
             Bringing shine and glitter in your drawings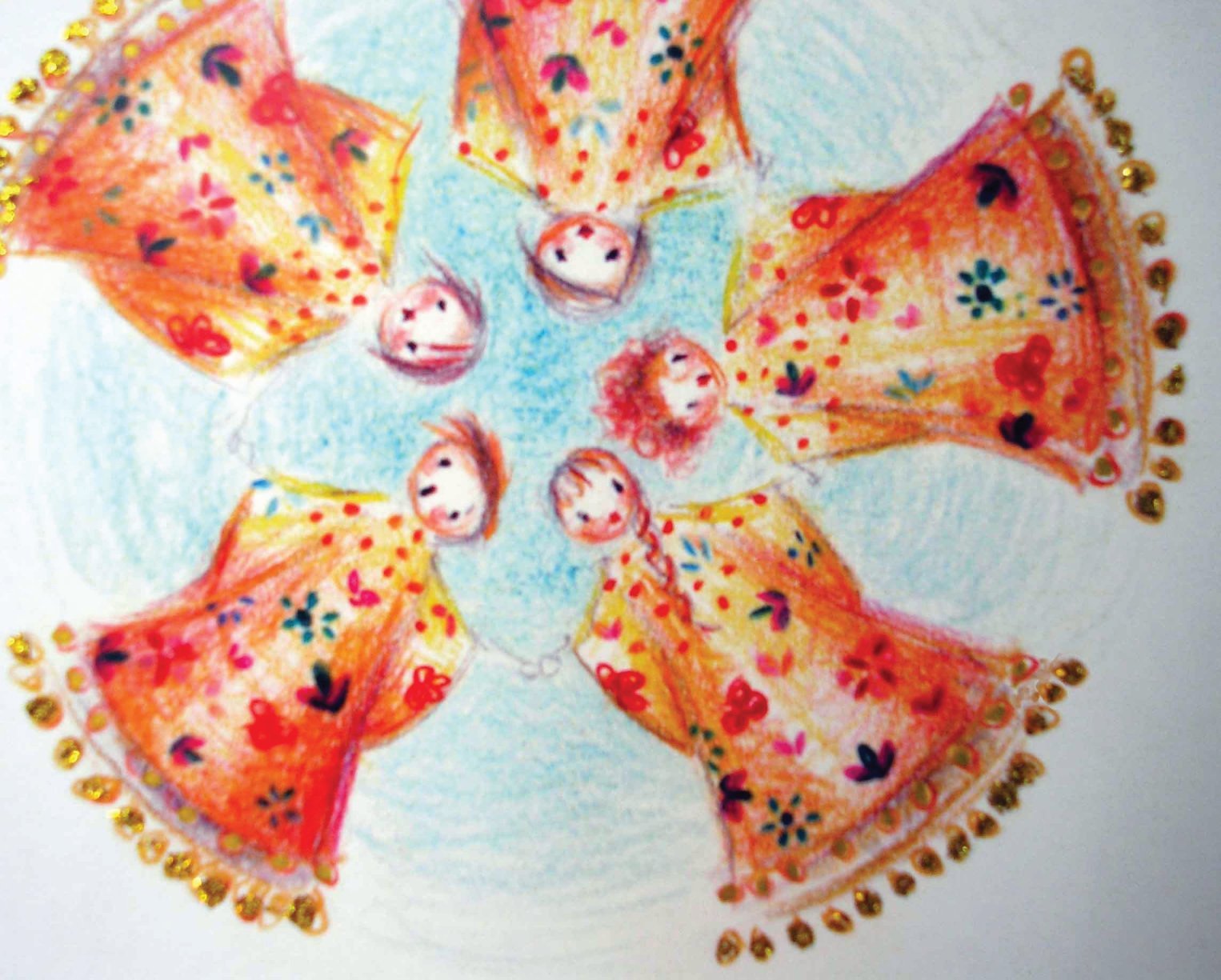 For this christmas card I filled in the top row of little dots of the dresses with a golden pen and I put a dash of golden glitterglue in each little dot of the bottom rows.
 I show you here a detail of the girls but in a photo you can not see as well  how it shines of course. Anyway, it changed a nice card into a very festive card.
Some drawings and images, like the one shown here, would look really nice too with a dash of glitter and shine.
I think of christmas- and fairy cards and anything else magical. But wherever you think a little extra highlight would look good, you can give it a try.
It is very tempting to go for it once you open the little bottles of glitter glue or start with a golden pen. I still splash with the shine and glitter too much and then, before I know it, my drawing disappears under the shine.
Better print a few copies of your drawing on heavy paper, and then try effects out on them. Remember that glue alone will leave a greasy mark, so make sure there is always glitter on the glue. And make sure you let the glue dry before you handle your drawing.
DRAWING

For most hobbies and occupations you need to invest money in a lot of things and often also space.
 For drawing you need a few things; paper and pencils. An eraser and a sharpener can come in handy too, and coloured pencils to brighten it all up.
You don´t need a fancy desk or office space. A kitchen table next to the window is a good place to draw. You can also draw in a train, a plane, outside, etc.      I can´t think of a place where you couldn´t draw, really..
Another good thing about drawing, I find, is that your hand and pencil come very close to the paper you draw on. There is less distance between you and your work as for instance when you paint. And because of that, it is easier to put things on paper the way you want it. You can work more precise as well.
The fourth very good thing about drawing is that you can use an eraser to rub lines out again.It is a bit like the undo button on your computer. Where would you be without it? Because you have an eraser at hand, you can draw with more ease. You know that you can undo any marks and make changes whenever you like.
The end result of a drawing can be just as effective as that of a painting, a sculpture,  a dress or anything else.
 Drawing is essentially used in designs, (book)illustrations,in fashion designing, in architecture, in film and in projects of all kinds, to name a few. 
/