Shopping Cart
Your Cart is Empty
There was an error with PayPal
Click here to try again
Thank you for your business!
You should be receiving an order confirmation from Paypal shortly.
Exit Shopping Cart
In about a month the schools have started again, and so will the Drawing and Illustrating Courses in Berlin. 
I offer on Mondays a course for children in the afternoon and one for adults in the evening (both in German). You can also do a course Online when that suits you better.
Online is more flexible, of course, as you are not committed to the Mondays.
And if you live in nowhere or somewhere far away from Berlin than an Online Drawing and Illustrating Course might be just the thing for you.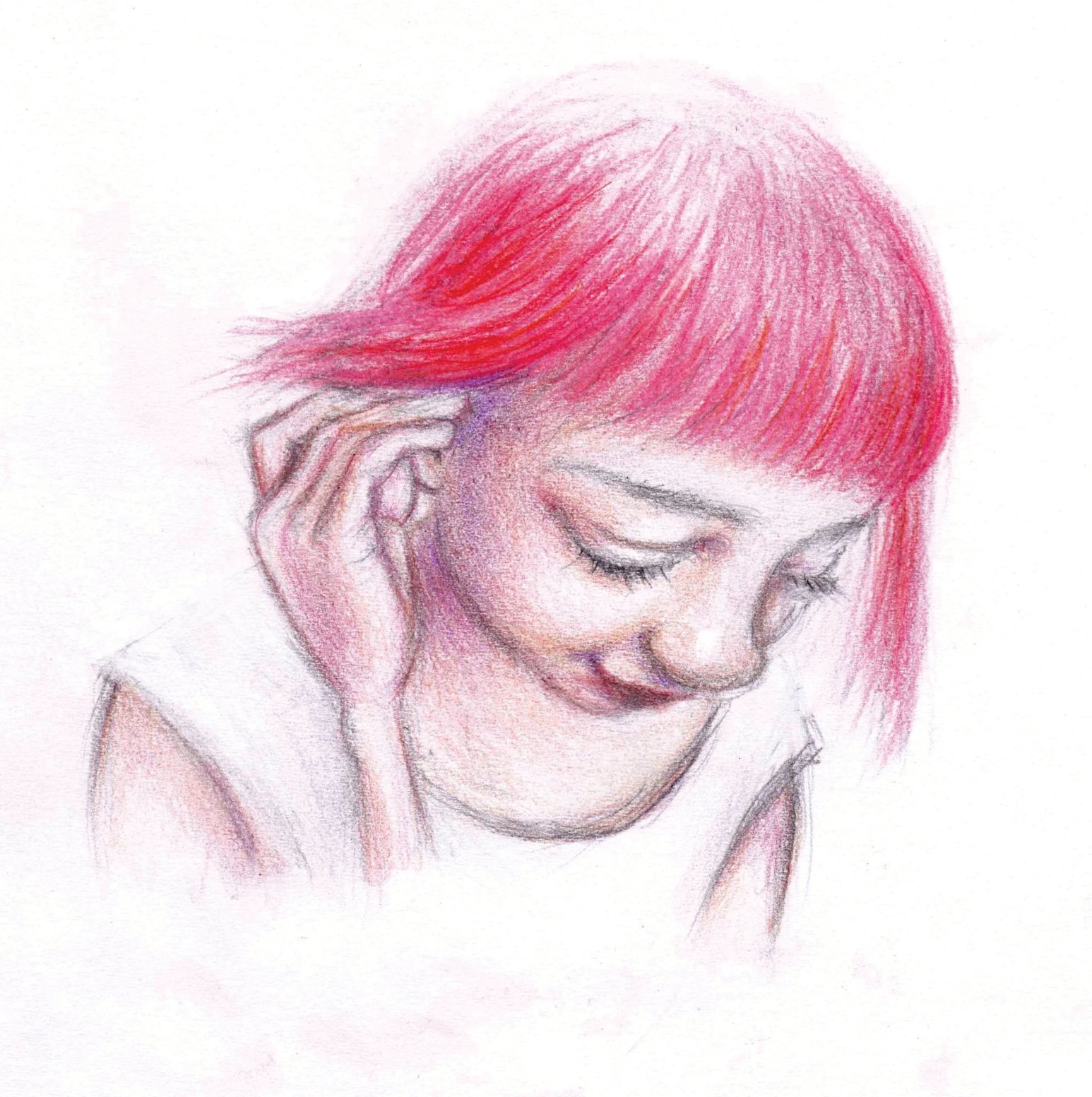 The difference between Drawing and Illustrating, in my opinion, is that Drawing is what you see with your eyes and then draw on paper.
Illustrating also has to do with creating an illusion or depicting a little story or thought. An illustration does not have to look realistic but it should come over as believable.
In this Drawing and Illustrating Course we combine the two aspects, which gives you in the end the option to go either way or stay somewhere in the middle.
The courses in Stadtteilzentrum Pankow (in Berlin) go for 12 weeks, starting on the 8. September 2014. The Online Course you can start when suits you and you can take up to 12 months to complete. 
More info you will find on my website,  hooywerk.com 
If you have questions, please contact me under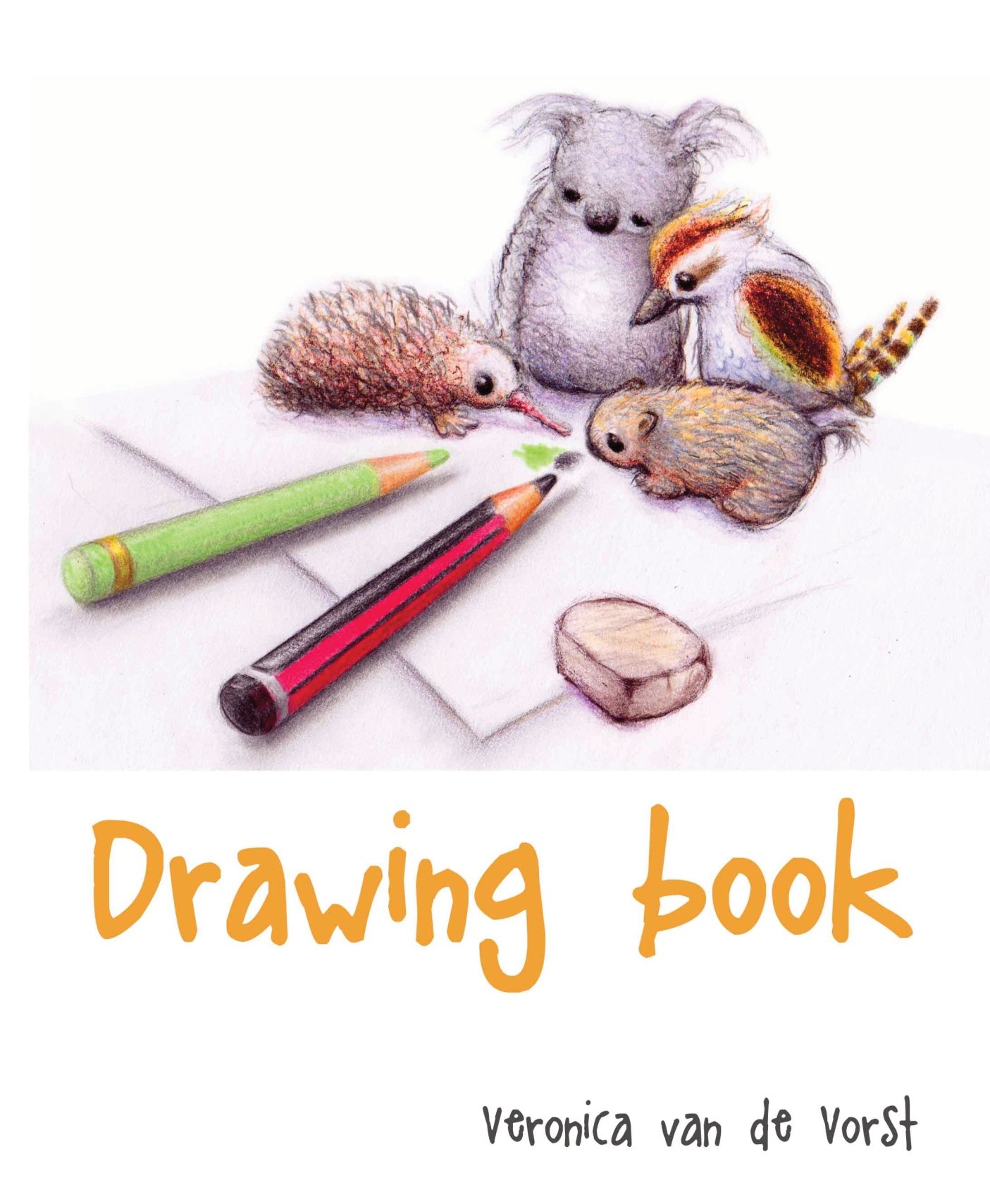 My many years of experience with drawing and illustrating as well as with teaching Drawing I have collected in a book. I can not tell you when I started this lesson book as that is really a long time ago, but I finished it end of last year (2013). 
It is printed on a good quality paper, in full colour and ringbinded so you can leave the book open on your table. It contains 100 pages full of illustrations, instructions, ideas and inspiration.
I always thought that lesson books are meant to be complicated and difficult to understand so that one gets the feeling of learning something worth while.
For me it mostly meant that I sooner or later had to drop out of whatever skill I tried to learn.
Many books about drawing and illustrating are filling my cupboard and I find most also difficult to understand and the tasks not easy to follow.
So I have really tried to write an easy going book.
But don´t think it is therefore childish. It might look at first sight like a fun book,
and it is, but it is also a serious lesson book and if you follow the instructions and take note of what is written and explained, you will quaranteed benefit from this book and your drawing skill and imagination (very important when you draw) will improve greatly.
But most of all, I think, looking in this book will make you feel like drawing!
The book is available for my students but anyone who is interested in drawing can order a copy  (ISBN 978-3-00-043028-2) over the website, www.hooywerk.com.
How to start and when to finish a drawing
You´d think that the hard bit is the actual drawing you do,
but often it is the beginning and the end of a drawing that can be the biggest challenge.
What will be the purpose of your drawing, what will you draw and how will you start?
For instance, my nieces are doing their school exams and I would like to send them a card with a drawing for when they have finished.
I ride my bike and think. I do the dishes and think. I sit in the sun and think.
It is not so much thinking even, it feels more like daydreaming where ideas are floating around in my head and slowly I get a picture of what my drawing should look like.
I used to think very complicated things to draw but found out over the years that trying to draw them have given me more often a headache than not and often spoiled and my fun of drawing and the drawing itself.
So I keep it pretty simple and can always add if I like.
I am happily drawing away until I wonder when I should stop. If I keep going, will I spoil the drawing? Am I too hesitant and should I draw a little more?
What I do in this case, I scan the drawing and save it in a file on my computer. That way I always have this version of my drawing and I can keep working on it without worrying.
When I think I finished my drawing, I hang it up with bluetag on the wall (mostly in the kitchen).
In the next days I pass it and look at it. And I make then still little changes or even add things. Other people will pass it too and often notice things I did not even see (that I might also change). Once I stop working on the drawing and I am happy with it, well then my drawing is finished!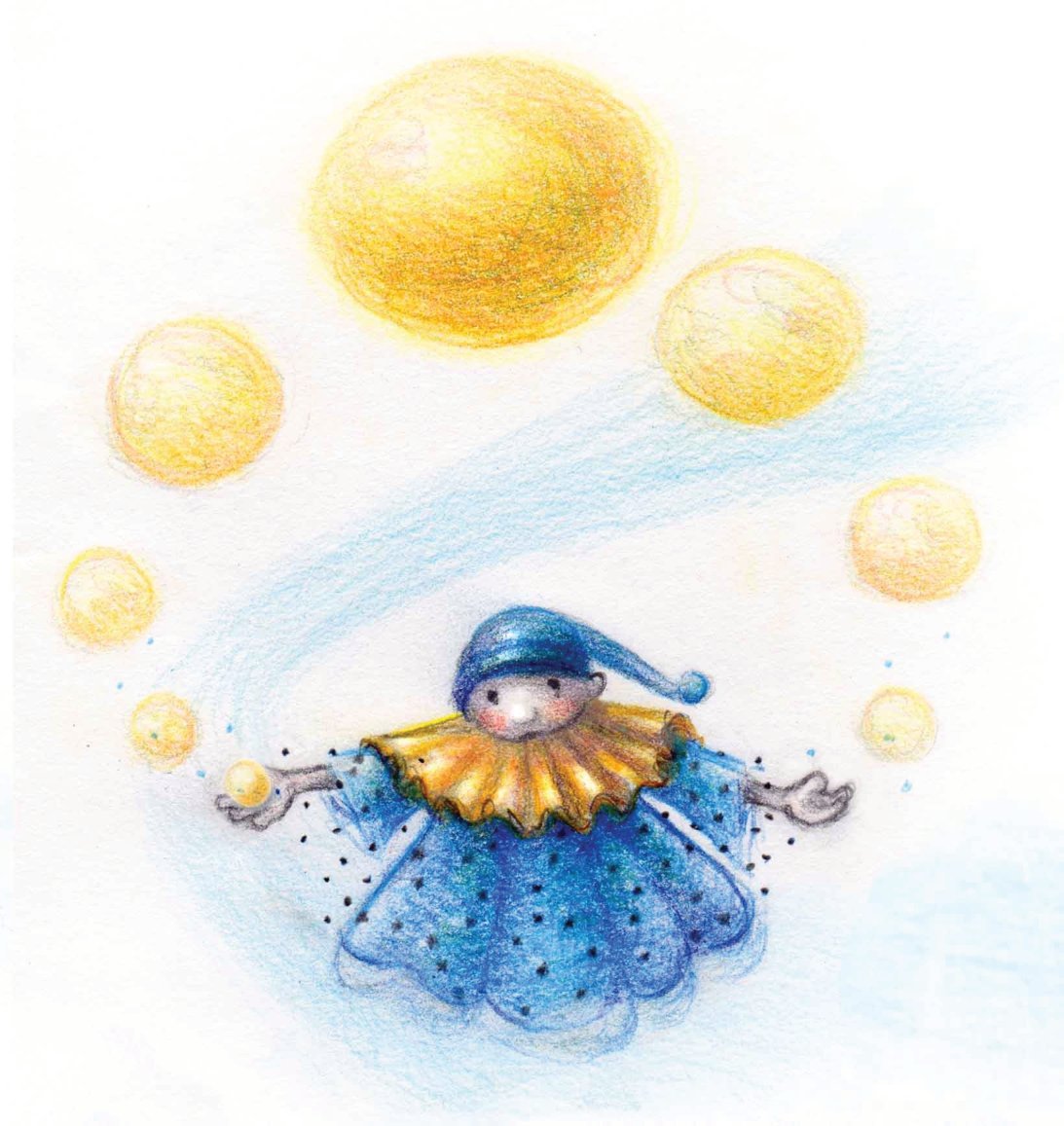 I can not show you yet the drawing for my nieces, 
                         as the ideas are still floating around...                                       
             Bringing shine and glitter in your drawings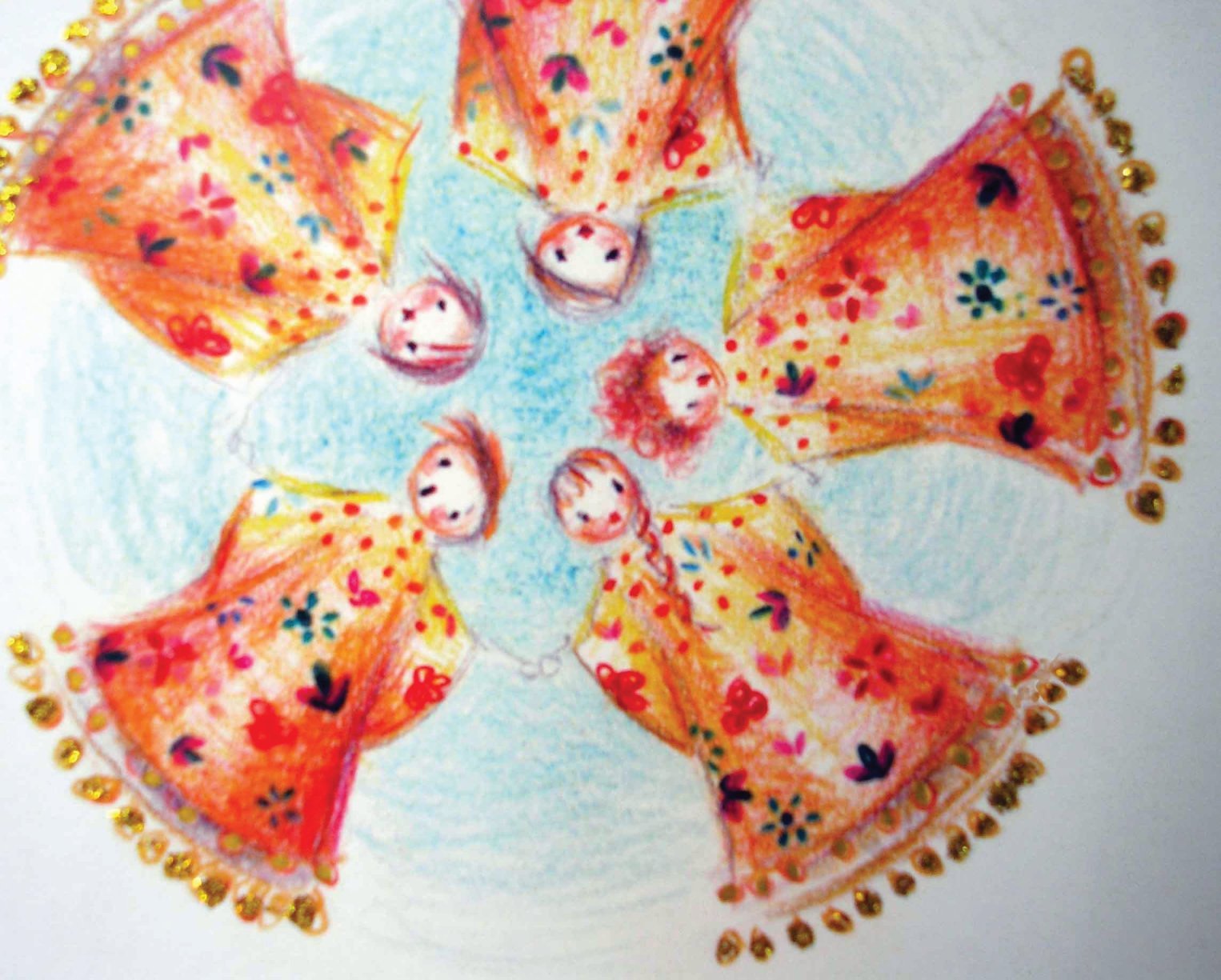 For this christmas card I filled in the top row of little dots of the dresses with a golden pen and I put a dash of golden glitterglue in each little dot of the bottom rows.
 I show you here a detail of the girls but in a photo you can not see as well  how it shines of course. Anyway, it changed a nice card into a very festive card.
Some drawings and images, like the one shown here, would look really nice too with a dash of glitter and shine.
I think of christmas- and fairy cards and anything else magical. But wherever you think a little extra highlight would look good, you can give it a try.
It is very tempting to go for it once you open the little bottles of glitter glue or start with a golden pen. I still splash with the shine and glitter too much and then, before I know it, my drawing disappears under the shine.
Better print a few copies of your drawing on heavy paper, and then try effects out on them. Remember that glue alone will leave a greasy mark, so make sure there is always glitter on the glue. And make sure you let the glue dry before you handle your drawing.
Finishing your drawing with a little help from photoshop
When you have made a drawing or illustration, you can scan it in your computer.
Here are some reasons why you might want to do this;
Your average drawing won´t be bigger that an A4 size, so it will fit nicely in your scanner.
As soon as you have scanned your drawing, your have a copy, or two, or three,  as many as you like. And you can send it in one click to anyone in the world!
When you look at your drawing on the computerscreen, you can see a lot more detail than you could ever see with your naked eye.
Just about every computer these days has a simple photoshop program. With this program you can get rid of smudges very easily (there where even an eraser is useless), you can brighten your drawing and make more little changes with little effort.
You don´t have to be a wizard to use photoshop to make little changes.
You can even make big changes, but very soon you will see that mostly a little change, if any, is all a drawing needs.
  CAUTION!  Don´t think you can fix a bad drawing with your computer, a computer can only  help enhance it.  So if you don´t like your drawing, better start again.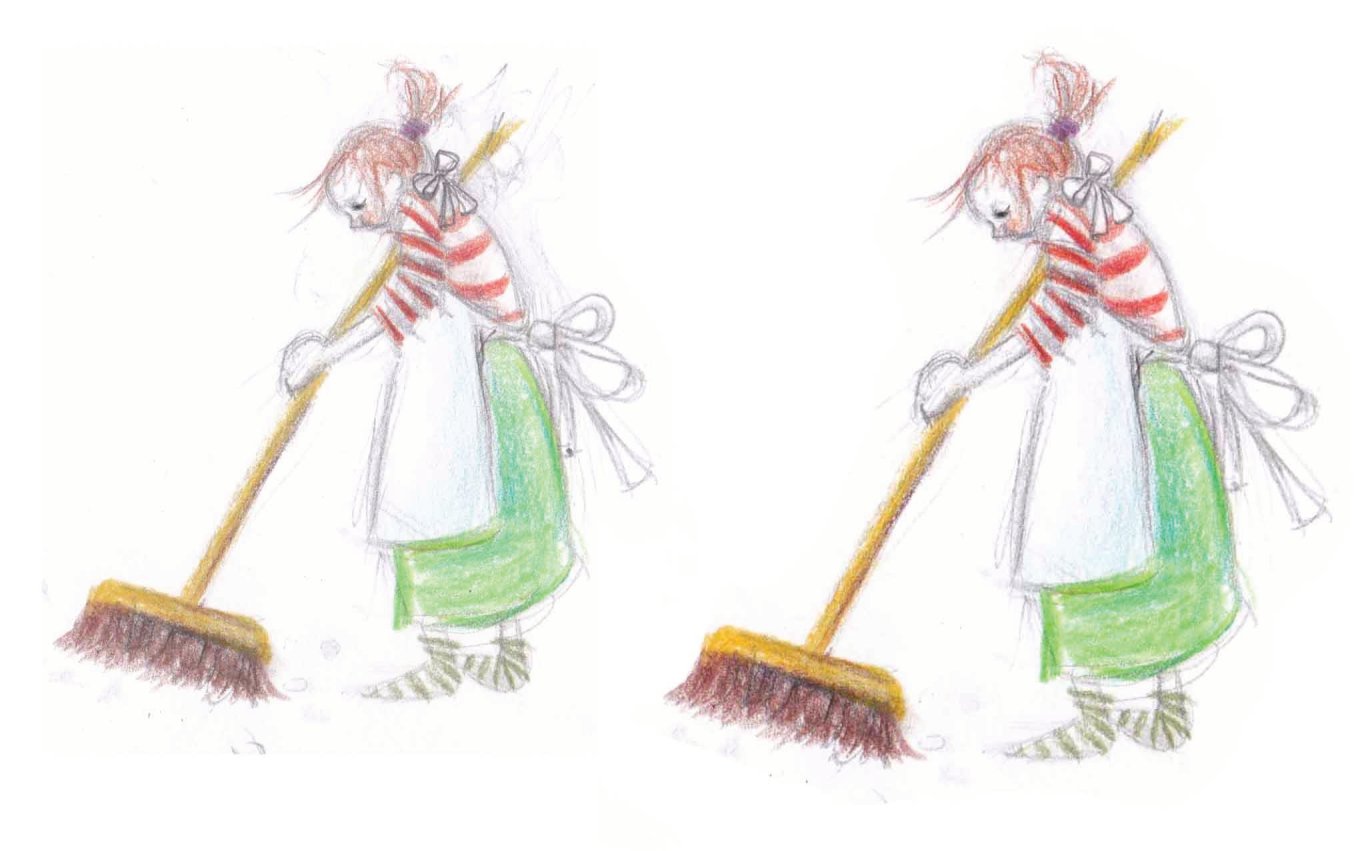 Don´t overdo the cleaning,
leaving a few messy lines will keep it lively.
DRAWING

For most hobbies and occupations you need to invest money in a lot of things and often also space.
 For drawing you need a few things; paper and pencils. An eraser and a sharpener can come in handy too, and coloured pencils to brighten it all up.
You don´t need a fancy desk or office space. A kitchen table next to the window is a good place to draw. You can also draw in a train, a plane, outside, etc.      I can´t think of a place where you couldn´t draw, really..
Another good thing about drawing, I find, is that your hand and pencil come very close to the paper you draw on. There is less distance between you and your work as for instance when you paint. And because of that, it is easier to put things on paper the way you want it. You can work more precise as well.
The fourth very good thing about drawing is that you can use an eraser to rub lines out again.It is a bit like the undo button on your computer. Where would you be without it? Because you have an eraser at hand, you can draw with more ease. You know that you can undo any marks and make changes whenever you like.
The end result of a drawing can be just as effective as that of a painting, a sculpture,  a dress or anything else.
 Drawing is essentially used in designs, (book)illustrations,in fashion designing, in architecture, in film and in projects of all kinds, to name a few. 
/